Punta Tombo with Commerson´s Dolphin
We leave early in the morning for Punta Tombo, the biggest continental Magallanes Penguin reserve at 182 km south from Puerto Madryn.
Start: 8:00 am - Return: 6:30 pm
From 1/9
Trip:
$1800
Boat:
$1400
TOTAL:
$3200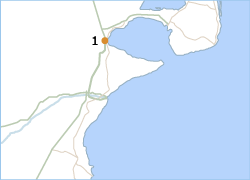 Park entrance not included - Available from September to April
---
We leave early in the morning for Punta Tombo (2). The reserve is open during the season from September to April. Thousands of penguins are here in their nautural habitat. They walk slowly from their nests to the sea, sometimes hundreds of meters away, to feed before returning to their nests again. During the summer we can see their newly born chicks.
On this trip we can see groups of guanacos and choiques running over the patagonic land and maybe some grey fox or an armadillo.
On the return journey we`ll stop at Playa Union (3) to observe the dolphins by boat. It's incredible to watch these playfull black and white dolphins playing so close to the boat. We'll arrive back under a sunset sky.